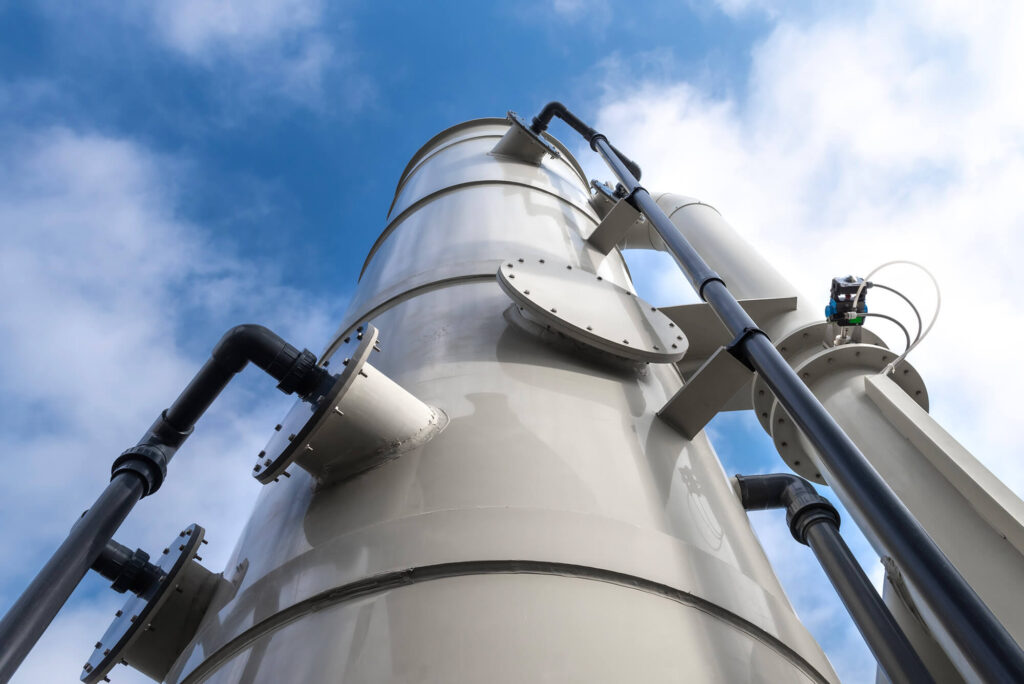 GAS PURIFICATION
GAS SCRUBBER FOR INDUSTRIAL PLANTS
Read the case study and find out how the gas scrubber for industrial plants remove odour and pollutants. Gas scrubber purification consists in removing and transferring a contaminant from a gaseous to a liquid stream and vice versa. The contaminant, once transferred, is reacted with specific products causing the neutralization and, consequently, its discharge.

ADVANTAGES
High abatement efficiency for water-soluble compounds and odors; easy and entirely automated system.
SECURITY
Easily installable, manageable and maintainable plant.

EFFICIENCY
Reduced plan dimension (upward development); highly compatible with other air treatment plants.

RESULTS
Olfactory Units Abatement: 80÷98%;
Sulfur-based compounds abatement: > 95÷99 %
Nitric compounds abatement: > 95÷99 %
FUNCTIONING OF GAS SCRUBBER FOR INDUSTRIAL PLANTS
The removal of pollutants (both gaseous or liquid) takes place in the scrubber tower through close contact with the opposite part. To facilitate the exchange, systems allowing the enlargement of the contact area among the phases are envisaged (ex. filling units or structured plates). Depending on the pollutant's typology, the use of specific reagents can be considered to ensure high abatement performances.
SCRUBBER
GAS SCRUBBER PURIFICATION
Wet scrubber towers purify, cool down and absorb steam and gas, transferring pollutants to the liquid phase. The gaseous stream rich in pollutants gets washed by a liquid stream allowing the transfer of said pollutant from the gaseous to the liquid phase. The water collected is recirculated through the washing ramps, hence limiting its consumption; the air discharged is purified by the scrubber tower while the watery solution is periodically purged and reintegrated with fresh water.
STRIPPING
STRIPPING GAS SCRUBBER
The stripping process consists in the transfer of a liquid pollutant to the gaseous phase. BMB's wet scrubbers work with a clean air stream sent to the scrubber; at the same time, the liquid solution containing the pollutant is sprayed by specific nozzle ramps. The contact between the phases is encouraged through the presence of filling units or dedicated structured plates, easing a mass transfer. The water discharged by the stripper is purified, whereas the air is sent to an abatement system.
ASK FOR INFORMATION
APPLICATION OF GAS SCRUBBER
Because of the high efficiency in pollutants removal, wet scrubber purification can be employed in almost all industrial landscapes: food, pharmaceutical, chemical and petrochemical industry; wastewater and waste treatment plants; packaging, rubber and paper industry; foundries and steel plants.