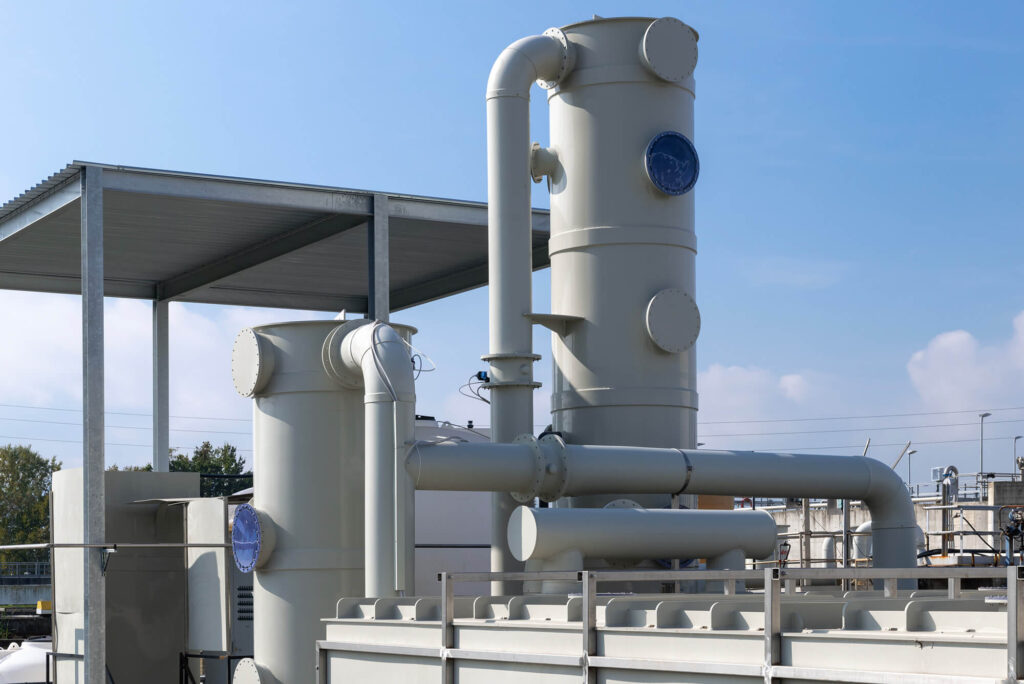 CASE STUDY
INDUSTRIAL WASTEWATER PURIFICATION PLANTS
The treatment and the purification of industrial and civil wastewater is an industrial process fundamental for the safeguard of the environment and of the people living nearby. The wastewater must undergo a purification process, both as a function of recycling and to respect environmental safeguard parameters. Some processes or commonly used machineries may give rise to consistent malodorous emissions.

CLIENT'S NEED
Abatement of odours
H₂S abatement
TECHNOLOGY EMPLOYED

POLLUTANTS ABATEMENT
Odour removal: ≥ 98%
H₂S abatement (sulphuric hydrogen): ≥ 99%
STRENGTHS
Energy efficiency
Solid structure
INDUSTRIAL WASTEWATER PURIFICATION PLANTS
In the majority of wastewater treatment plants, substances responsible for bad smells are ammonia (NH3), hydrogen sulphide (H2S) and Mercaptans (RSH). Said substances are perceptible to human's sense of smell even in extremely low concentrations and are responsible for annoying odours.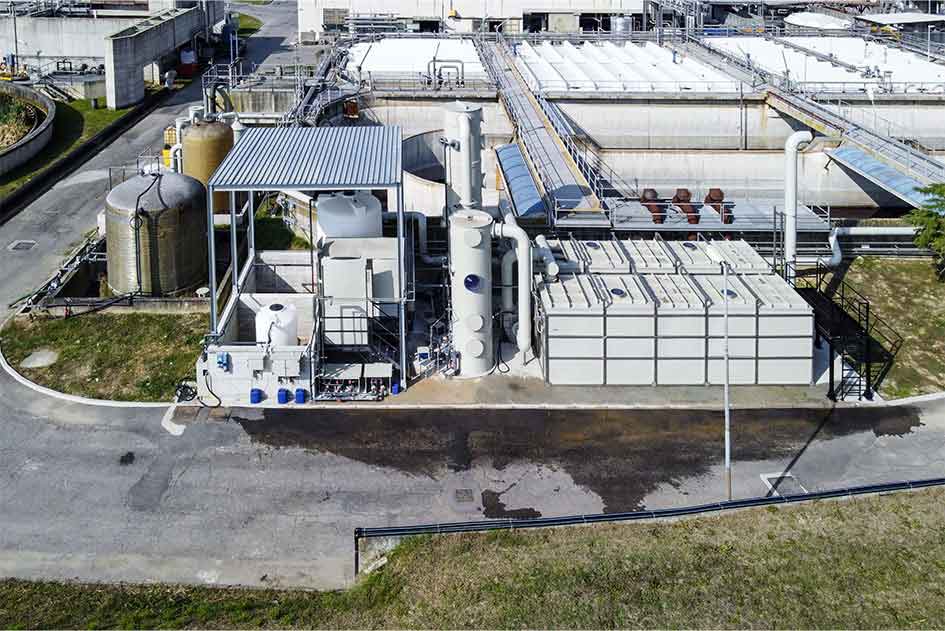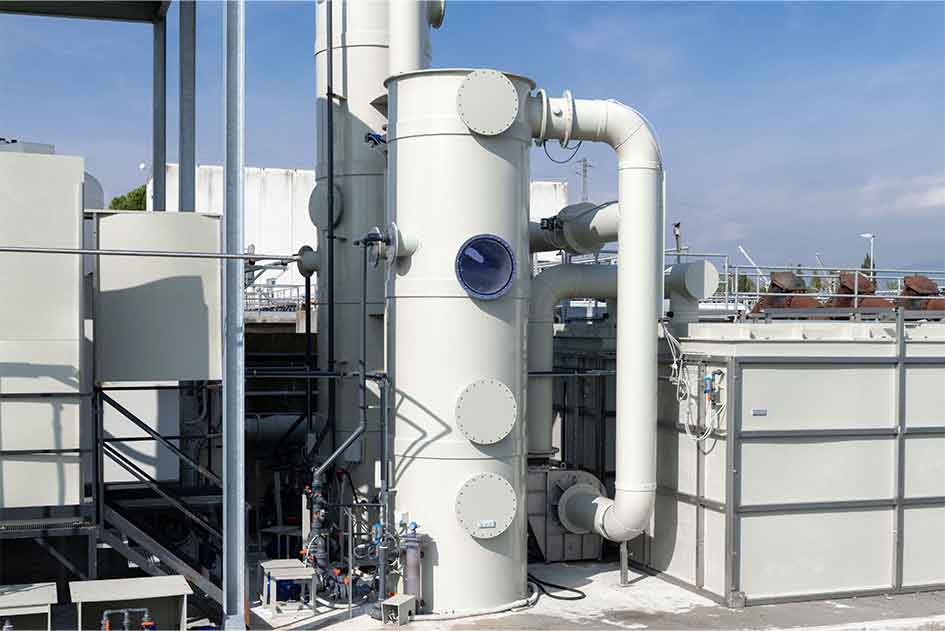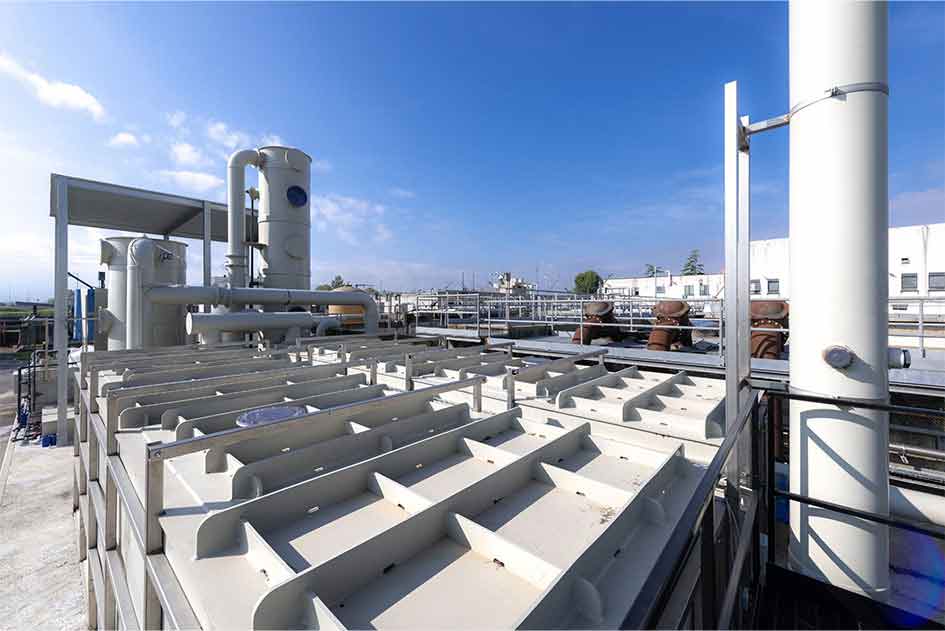 THE PLANT FOR INDUSTRIAL WASTEWATER PURIFICATION

CHALLENGES
OPTIMISE AND SIMPLIFY
Limited spaces, the high performances requested, the presence of other plants with which to interact, the interferences and the necessity to keep the industrial air purification plant working 24/24h are just a few of the challenges that BMB plants must face. In this case, it was necessary to obtain an almost total efficiency of removal, combined with a plant management that was easy and economically convenient.
SOLUTION
CREATE A CUSTOMISED PURIFIER

Realisation of an optimised purifier with high level of automation, with a customised parameters control, remote monitoring and alarm system, in order to transmit maintenance interventions.
The plant has been structured with the following scheme:
The polluted air stream passes through two wet washing towers (scrubber) capable of reducing the acid compounds (hydrogen sulphide H2S); odours are subsequently removed by a biofiltering unit.
TURNKEY PLANTS

Each industrial air filtration system plant realized by BMB is custom designed after thorough field study. The initial study of condition, context and potential problems allows or technicians to propose targeted and tailored solutions, appointed plants and specific technologies for any kind of problem.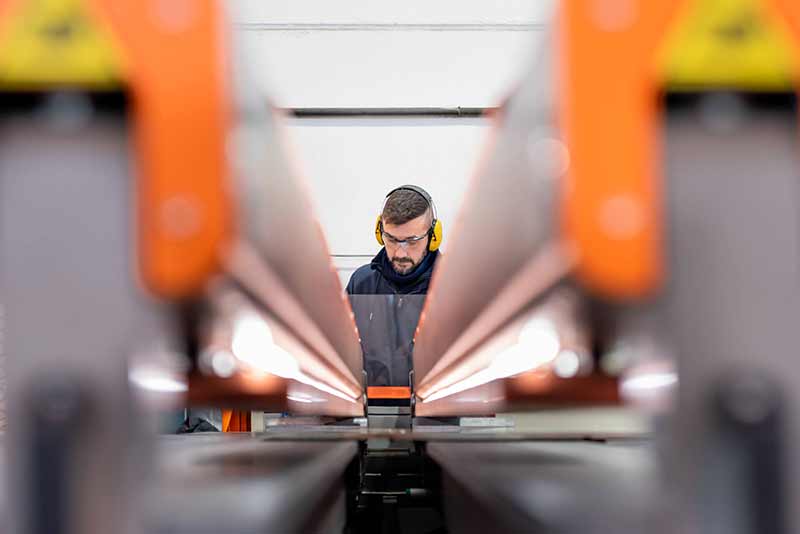 MANUFACTORING AND INSTALLATION
Each plant produced by BMB is designed, built and tested in-house. The installation is planned and carried out by our specialized technicians.
MAINTENANCE ASSISTANCE
BMB offers complete and custom service for plant assistence and maintenance: oordinary maintenance, extraordinary availability and remote monitoring.
PLANT DESIGN
Our plants are designed in compliance with the most updated law and engineering standars, are applied to needs of client so as optimize the investment.