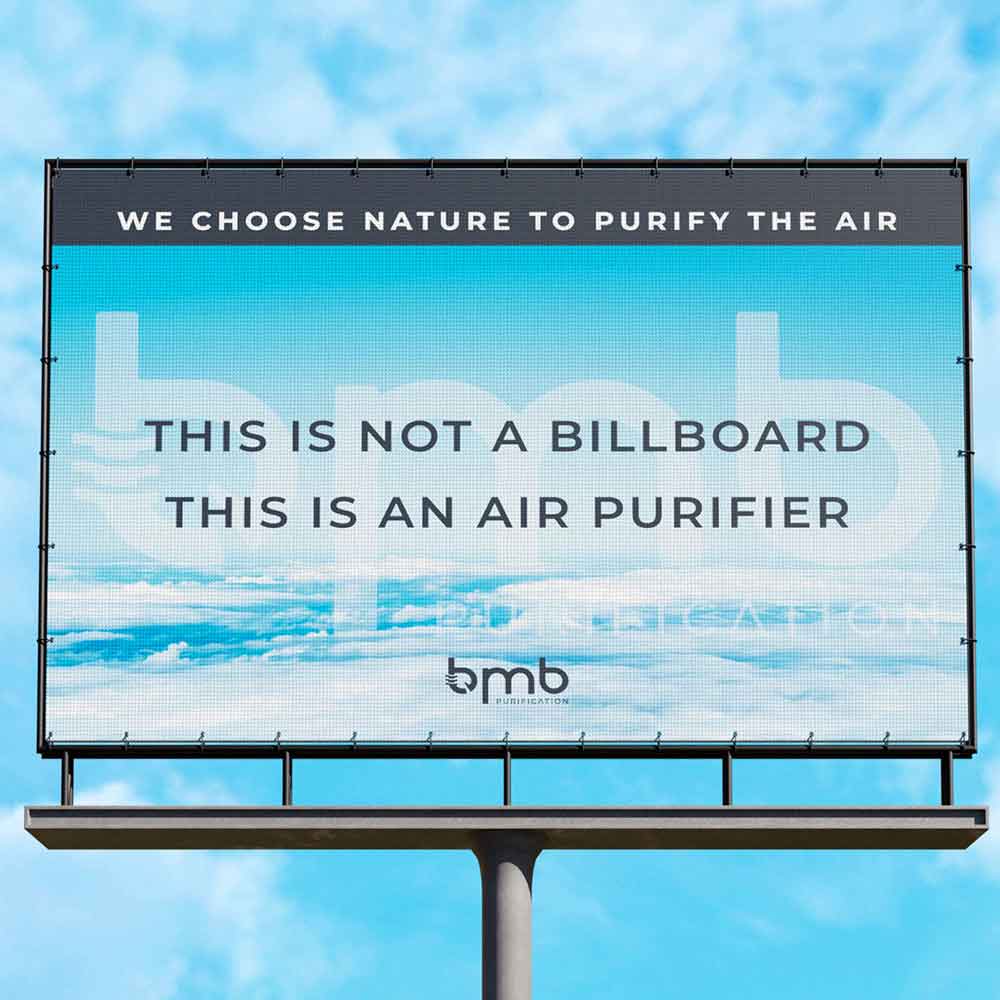 AIR PURIFICATION BILLBOARD
PHOTOCATALYTIC SIGN
Internally realized by BMB, billboards with photocatalytic technology are the result of years of study looking for an innovative, cheap and easily manageable method to purify our cities' air. These filters make use of solar radiations to activate a noble metal catalyst that can purify polluted air. The purification process takes place inside a photocatalytic fabric, placed between two stretched PVC panels microperforated 4 mm. The structure, that can be uncovered on the upper side for maintenance interventions, must be exposed to an air stream and can support two different ads.
Technologically advanced and BMB patented, the photocatalytic purification has met a widespread use among the most diverse industrial sectors, such as Oil&Gas, Food and Chemical sectors.
TECHNOLOGY
Photocatalytic purification is a revolutionary purification technology allowing pollutants and odors abatement through use of sunlight, or through specific lamps-induced radiations. BMB air purification billboards employ this exclusive technology to capture and break down the polluting molecules filling the air.

ADVANTAGES
Versatility of use, extremely easy to install and scarce pressure losses. Adaptable to traditional billboards, effective in purification and advertising, environmentally sustainable and eco-active.
SECURITY
Recognised as BAT at a European level, no necessary user for plant management and low management.

EFFICIENCY
High permeability allowing air inbreathing and outbreathing operations; reduced CO2 emissions ("CARBON FOOTPRINT" certified system). Possibility of promoting one single or two different ads.

RESULTS
Olfactometric Units abatement: 85÷95%;
Sulphur-based compounds abatement: 70÷80%;
Nitric compounds abatement: 80÷95%;
Volatile organic compounds abatement: 60÷85%;
FUNCTIONING
Air purification billboards take advantage of a particular photocatalytic fabric placed between two microperforated PVC panels and accessible for substitutions or maintenance interventions. Patented and developed by BMB, said fabric id structured to adsorb polluting molecules and channel them through another part of the fabric, which has a high concentration of titanium dioxide (TiO2). Near the TiO2 layer functioning as a catalyst, the polluting molecules are decomposed by radical ions, through a phenomenon known as chain oxidation. The result of the purification process is the discharge of CO2 and H2O in the atmosphere, non-toxic and odorless molecules.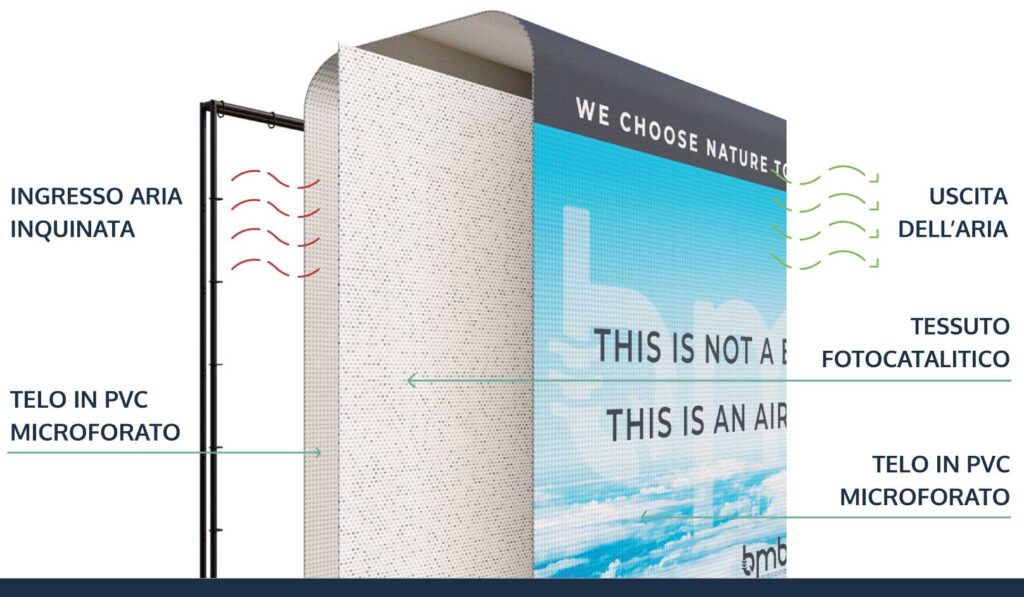 APPLICATIONS OF PHOTOCATALYTIC SIGN
Air purification billboards using photocatalytic fabrics can be custom made, with special dimensions and formats, or they can be adapted to traditional billboarding. This kind of purifier can find its application in all traffic exposed or high visibility areas, and it results being particularly effective in polluted contexts with scarce vegetation. Cities, rest stops, construction sites, airports and railway stations are just some of all possible contexts in which air purification billboards can find their ideal collocation.